Why PBS for James Hardie?
Why Should you Hire Professional Building Services for your Hardie project?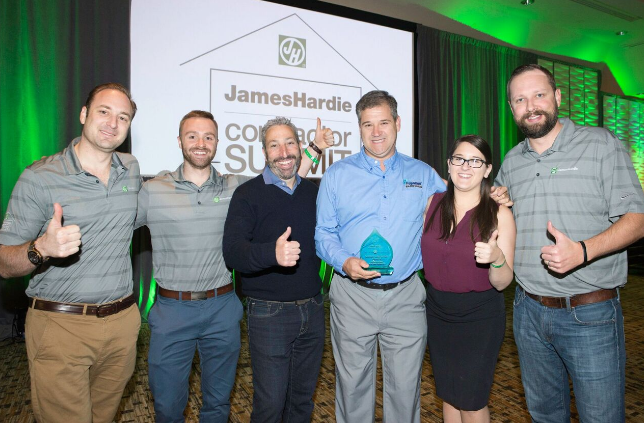 Hiring a contractor can be an exhausting, time-consuming, and frustrating process. How do you determine if a contractor knows what they are doing? Are they giving you a fair price? Will their work stand the test of time? Will you be happy with your decision after your project is complete? Remodeling your home can be challenging. We designed our process to ensure that our homeowners are confident that they made the right decision before, during, and after their project is complete. Professional Building Services is uniquely able to provide unrivaled Hardie install capabilities to our customers. This provides our homeowners with peace of mind knowing that their project is installed properly, that the manufacturers requirements are met, and that their project will last 30+ years.
Unrivaled Industry Experience.
One of the more attractive attributes that a contractor can possess is the experience that he or she can bring to a homeowner's project. While every contractor says that their experience is superior, Professional Building Services actually has a unique level of expertise that advantages homeowners like no other contractor in New England.
Ownership are engineers and educators by degree. We are graduates of James Hardie University & Plant Tour and frequently work one-on-one with our direct Hardie representative for the newest product updates and installation trainings. Our representative visits project sites to catch up with our crews and even participates in our Neighborhood Event BBQs to celebrate new Hardie jobs. Our work is featured in Hardie 's national digital and print educational literature and our very own Pete Ciaraldi is an expert contractor in this FastenMaster commercial . As annual Elite Preferred attendees of the James Hardie Contractor Summit, we educate and instruct other contractors on how to properly install Hardie materials to meet the robust requirement list.
We are also partnered with Certified Contractor Network (CCN), who is a 3rd party company that works with the best contractors to deliver excellent customer service that tops any homeowner's expectations. Those stereotypical 'Chuck-in-a-Truck' contractors / installers do not exist in our company. We show up on time, use manners, clean up, and do what is promised correctly the first time.
We take the time during our Project Consultation Process to help homeowners properly hire the right contractor for their job. You are going to make a good size investment in your home, and it vital you understand how to hire the right contractor. This is not a typical retail purchase—with most contractors, you do not know what you're going to get until the project is started and finishing up. With Professional Building Services, you will know exactly what product materials, installation techniques, and what processes and procedures take place to assure a smooth Production Progress with continuous communication between the initial consultant, production, office, and homeowner with our Homeowner Portal. Our attention-to-detail has been recognized and awarded by many leaders of the industry like Guild Quality. We are the only local Elite Preferred Hardie Certified Installer who are a repeated award winner of the Guild Quality's Service of Excellence Award with 100% Customer Satisfaction.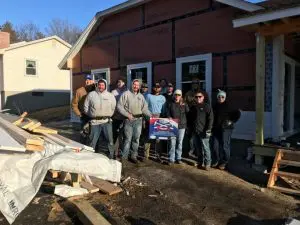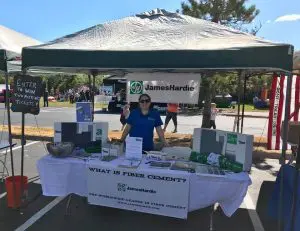 Details, Details, DETAILS!
Properly installing James Hardie Siding is a complex project. When the manufacturers' specs are met, Hardie Siding can deliver a high level of performance for 30+ years. The product is backed by a 30 Year, Non-Prorated Warranty. However, when Hardie is not installed correctly, then it will begin to show signs of failure in a few months- a few years— and will likely need to be replaced in 2-5 years. To make things worse, when Hardie is installed without meeting the manufacturers requirements, the homeowner's warranty is void. There is much, much more to a Hardie installation than the siding material & even a Hardie certified installer.
Professional Building Services exclusively installs James Hardie Siding replacement because we strive to continue being masters of our craft and providing homeowners with quality products and installation. We are unwilling to offer our homeowners anything less than the best possible service delivery. It is impossible to be the best at everything and we choose to specialize in exterior projects with Hardie as our sole siding partnership. We chose to be the best at James Hardie Siding installation.
When interviewing potential Hardie contractors, here is a small list of questions that you should ask. If a contractor mismanages any of these requirements, it can lead to a premature product failure and the voidance of your Hardie warranty.
Not Every Contractor is Created Equally.
It will shock you how many contractors, even those partnered with Hardie, will not know the answers to the above questions. If that does not surprise you then this will! Lets take a look at the critically acclaimed television show This Old House. The shows stated mission is to provide homeowners with Expert advice on home improvement, remodeling, gardening and decorating. Take a look at how they advise viewers to install Hardie:
Can You Find the Mistakes?
In this 5 minute video we counted 7 mistakes and inaccuracies, one of which WILL lead to premature product failure. Give us a call, we are happy to chat about it.
Prior to being recognized as an Elite Preferred or Preferred Contractor, James Hardie considers all of the following:
Compliance with Installation Best Practices
Professional Sales Approach
Satisfactory credit report
State Licensed
Liability insurance $1,000,000 per occurrence
Workman's compensation Insurance (where required by law)
Satisfactory background check with at least 6 past clients
What Does James Hardie Elite Preferred Contractor Status Mean?
The James Hardie Contractor Alliance Program is designed to match homeowners with professional contractors from around the country, who are trained and available to help you meet your needs for siding replacement. In an effort to provide the highest level of service, customer satisfaction surveys are initiated on every James Hardie project installed by an Elite Preferred Contractor using Guild Quality—a third party customer satisfaction surveying service.
Of the five Hardie associated standings, Elite Preferred Status is the absolute highest level. We have maintained this rating with Hardie from the start. We perform only Hardie siding & trim installation and truly believe in this product line. That means, there is absolutely no question of what needs to be done and how it needs to be done to meet Hardie's and PBS's expectations. The installation techniques, 50+ quality product underlayment/ "extra" materials, and overall craftsmanship required to make a Hardie job go from good to "WOW" is emphasized from your first Project Consultation until your Post Construction Meeting. We take our responsibility as Hardie contractors very seriously and prioritize homeowners' experience.
Not only do we meet Hardie's requirements to maintain Elite Preferred contractor status year-after-year, we exceed them. Our Silver, Gold, and Platinum packages allow homeowners to save and invest money however they wish without compromising the structural integrity of their homes. All packages meet nationwide, statewide, and Hardie codes and will grant homeowners Hardie's 30 Year Non-Prorated Warranty. However, the PBS code surpasses these criteria. We work closely with a wide spectrum of house styles, historic houses, and homeowner personalities. During our Project Consolation and Proposal Process, we focus on YOU. Your needs. Your desires. Your budget. Step-by-step, we work with you through the selection process to customize your home while improving its efficiency and highlighting its charm.
The whole Hardie system is the ultimate choice for the best water management, curb appeal, and defense against the elements. We regularly install and smoothly produce dozens of full exterior envelope Hardie projects a year—ranging from 1,200 sq. foot homes to 7,000 sq. feet. No house or design is too overwhelming for our expert crews. We thrive on finding solutions to your challenges and partnering with great families in need.
What Do These Badges Mean?
100 % Hardie Badge:
We install America's #1 brand of siding and trim with all Hardie product lines.
Commitment to Excellence Badge:
We have completed the annual training program offered by Hardie pertaining to general installation requirements, critical to quality requirements, and a review of current best practices.
Design Excellence Badge:
We excel at installing a wide range of Hardie product profiles, providing homeowners with differentiated design options.
Superior Finish Badge:
We excel at installing a wide range of Hardie color profiles providing homeowners superior performance over time.
Homeowner Recommended Badge:
We earned the highest level of homeowner recommendations based on customer satisfaction data from Guild Quality, the industry leader in third party surveying.
Years in Program Badge: Our exclusive partnership with Hardie creates stability and dependability for homeowners.
How often do you replace your siding? If PBS replaces your siding with Hardie, then it can be around every 30+ years. The remodeling process is exciting because homeowners have a once in a lifetime opportunity to completely transform the exterior of their home. If you are going to do this type of project once, why not evaluate all of your options? Why not utilize the support of an experienced & talented design consultant? PBS is not your typical siding, roofing, and window replacement company. Our customers benefit from industry leading design capabilities that serve the needs of every taste palette. We do this for one simple reason. Our homeowners are left with the home that they want.
Recent James Hardie Projects We're Proud Of
Request Your Free Consultation
Getting in Touch with Our Team Couldn't Be Easier. Contact PBS Today!
What Our Happy Customers Say About Us
And Happy Thanksgiving to you, your family, and all the guys you employ. You are a wonderful group of people. Kathie and I are glad to know you and have you doing this work for us. I am sure you have…
Read More