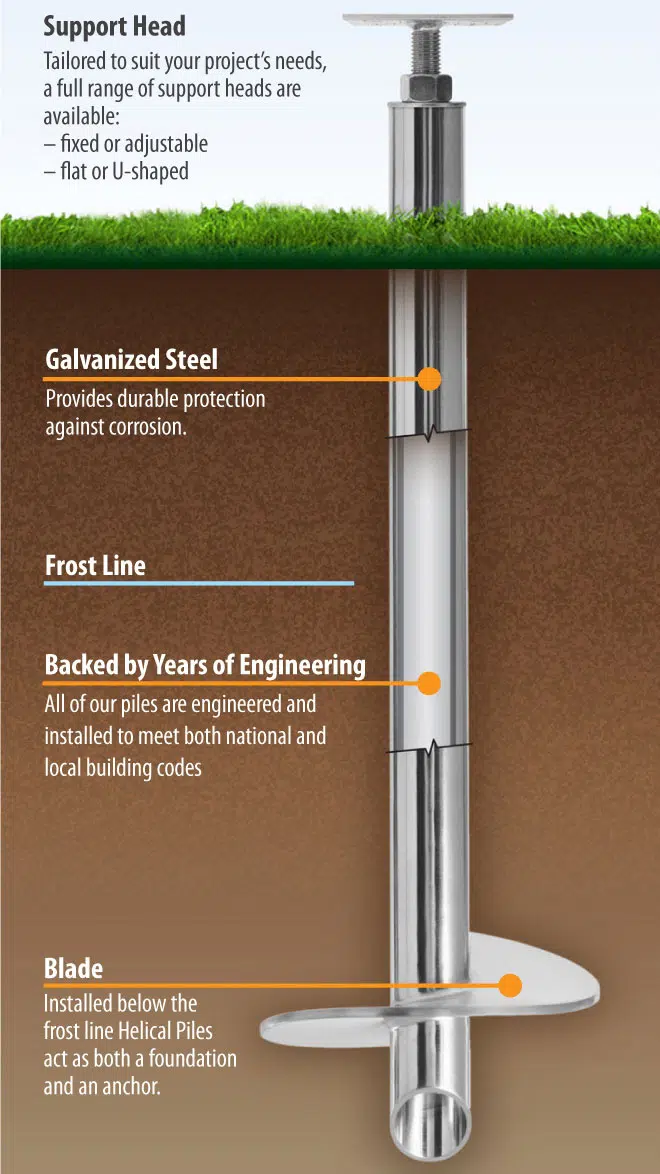 We build over 100 large decks a year — that's a lot of footings!
Even when building smaller decks or porticos, the footings are crucial for the safety and longevity of the structure. You may think to yourself "if the footing hole is deep enough, that works for me," but it is important to learn about the vital underground components supporting the weight load.
Especially living in the Granite State, digging footing holes by hand and mixing concrete takes lot of time, labor, and worn down tools.
We don't have to wait around for inspectors to check out the footing holes or risk them getting filled up with rain water. Both of these means you save time and money for guys "waiting around."
The load-bearing capacity of a helical pier usually relates to the amount of torque required to install it, a function of both the size of the helix and the soil's bearing capacity. A pressure gauge on the installation machine reads the torque as the pier is rotated into the ground. The calibration ensures the pile is installed below the frostline for that particular soil type in New England with no frost heaves.
When poor soil conditions mandate going deeper than the standard 7-foot-long-shaft, we weld on an extension. Sometimes all it takes is a foot more depth to go from terrible soil to firm material. As for rocks, we typically power through loose basketball-size or smaller rocks as the installation machine generates sufficient torque for the helix to push rocks out fo the way as it turns. Sometimes, the installer can actually steer the helix around a rock, then use the machine's boom to pull the pier back into plumb.
Using these helical piles properly looks nicer overall. We create many under-deck spaces around these footings. For decks that are close to the ground, homeowners opt to use the under-deck space for storage and even protect storage with lattice skirting. For decks high off the ground, less piles means more useable living area underneath the new deck–especially when paired with RainEscapes or DrySpace.
Although we are able to drill these piles later on into the season (when compared to hand dug holes), we make sure our Winter work is taken care of and often demo and set footings for our November-March projects in October/early November. Most homeowners love having their outdoor projects done in the winter so they won't have their Springs & Summers interfered with!
Now is an ideal time to get on the schedule and invest in your exterior project by contacting us at Professional Building Services .