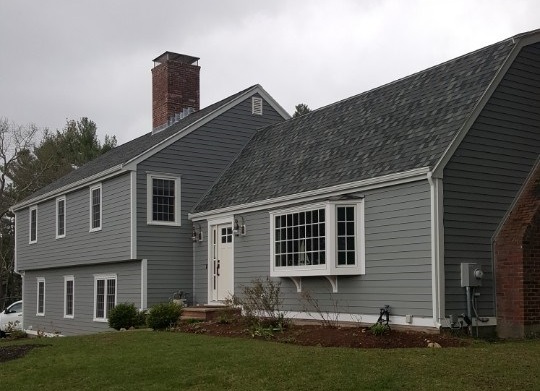 Issues Before:
These homeowners had 1 layer of cedar plank siding that were completely at the end of its life. They were sick of constantly having to paint the peeling paint & hammer in nails that the wood could no longer hold. There were major sections of the house that were drafty and left the structure susceptible to bug and water penetration. These homeowners wanted a fresher look and went with an entirely different color scheme that truly modernized the house.
Products Installed:  
James Hardie Fiber Cement – Gray Slate
Hardie Window & Door
Therma Tru Door
PBS installed James Hardie Fiber Cement Siding Hardie Plank with Hardie House Wrap around the entire dwelling and taped around all seams including windows. Siding is a 5″ reveal Cedar Mill in Hardie's Color Plus Gray Slate. We also added Hardie Window & Door Trim and Sills, Hardie Fascia, Hardie Soffit, and Hardie Corner boards in Arctic White and included crown shelf along the tops of all windows & doors. We also installed a new Therma Tru front entry door with a sidelite & built a beautiful eyebrow with a larger projection over the garage doors!
These homeowners love their new curb appeal and efficient home. The crown detail, eyebrow, and new door make the house pop & we continue to get compliments on the installation and talented crew!
Request Your Free Consultation
Getting in Touch with Our Team Couldn't Be Easier. Contact PBS Today!